The Lead Nurturing wizard is used to create messages campaign which will be sent after contact meets the conditions set for sending. Thanks to lead nurturing we can for example conduct series of messages sending educating clients about the company profile Its products and services.
To create a new lead nurturing go to Automation Processes -> Wizards -> Lead Nurturing.
---
[A] Basic settings
[A1] Lead Nurturing name – enter the name of the campaign which will help to identify It later on.
Then we need to choose when the campaign should run:
[1] Contact has been added to the system – If we choose this option, the campaign will run for each new contact added to the system. Additional configuration is not required.
[2] Contact was tagged with – specify tag must me signed to a contact to run the campaign. Assigning tags without running the rules:
importing contacts from the file – find out more about an import >>,
adding tag as an action in Contact management,
adding tag via Transaction analytics,
adding tag from a contact's detail as an action in contacts management.
[3] Contact has been added to the stage in the funnel – here we need to specify to which funnel and Its stage contact must be added so the message campaign will run.
After selecting the action that will activate the message campaign click Next.
---
[B] Messages
[B1] Choose messages – we can choose a fully prepared template from existing ones in the system. It is possible to find particular one by:
selecting from groups where templates are saved – we can look up default or open the group list and find the template in one of them,
search window – type the name of the template to find the particular one,
template window – we can also scroll manually window with the messages.
[B2] Create new email – It is also possible to create a new email at this point.
[1] Message name – type the name of the new message.
[2] Group – choose the group where the message will be saved.
[3] Add new email – create your new email. After choosing one of the three options you are going to be redirected to selected creator. There are:
Create new email in creator (drag&drop),
Create new HTML email,
Add new email in .ZIP format.
[B3] Lead Nurturing – chosen messages – here drag and dropped following messages will display.
After dropping a message the pop-up with configurations will show up. We can set the sending time of the message. We enter after what time from an event occurring we want an email to be sent. We can select days, hours, weeks, months. If we have inserted more than one message we can set the time between each one.
Message field includes the name and subject of the message but also icons:
trash – deletes the messages from Lead Nurturing,

magnifier – opens a preview of the message,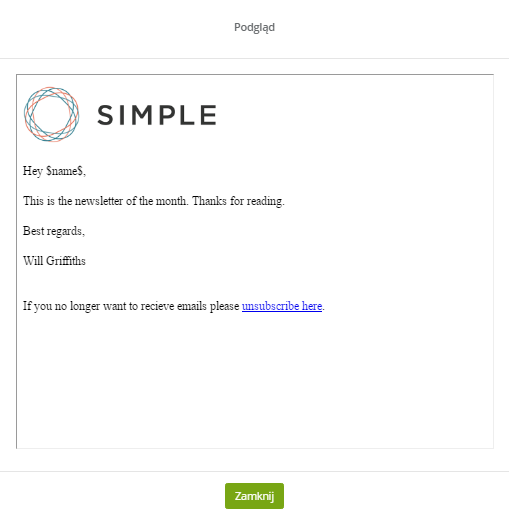 pencil – thanks to this icon we can go back to the basic message settings (name and group),

clock – after clicking this icon the pop-up with time configurations shows up, just like when we drop the message,
arrows – with arrows we can adjust messages order in Lead Nurturing.

After inserting every messages and adjusting every setting we can proceed by clicking Next.
---
[C] Summary
[C1] Created messages – in the summary, Lead Nurturing with created messages will display below, and also the Event after which It is going to be activated (from the example above It is going to be Contact has been added to the system).
[C2] Activate Lead Nurturing – to activate Lead Nurturing switch it from OFF to ON.
To save Lead nurturing in the system click Save.
Analytics
You can access Analytics from the Lead Nurturing Wizard. You can view performance statistics for processes associated with this wizard. Learn how to use the Rule Analytics dashboard >>